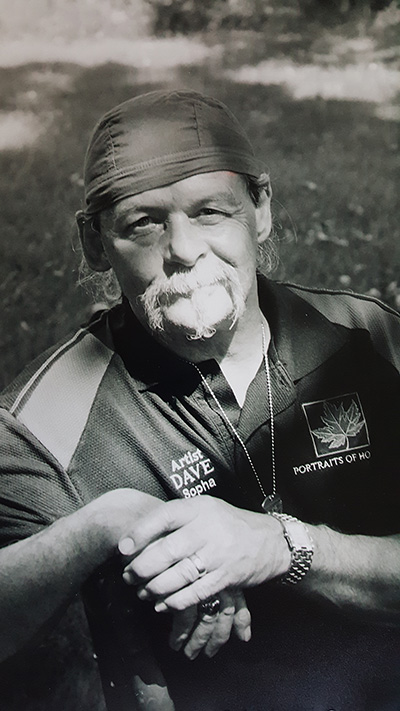 Dave Sopha M.S.M has been a professional airbrushing artist for the past 47 years. He discovered his artistic talent during an eight-month recovery following a car accident in 1970 that left him with a broken back. He started his own business in airbrush artistry in 1973. The Portraits of Honour painting is Dave's first excursion into the world of oil painting.
Family Man
Born in Toronto, Dave and his wife Penny moved their family to Cambridge Ont. in 1982. Dave and Penny have together, one son and three daughters, as well as 14 grandchildren and 4 great grandchildren and another one on the way.
For the Honour? For the LOVE!
Dave has had an extensive career supporting military and veterans across the country receiving numerous awards for his work. Dave was honoured in Ottawa with the Queens Diamond Jubilee Medal. He received the Minister of Veteran Affairs Commendation in Charlottown PEI. He received Kinsmen's Hal Rogers Fellow, The Rotary's Paul Harris Fellow and the Kiwanis Walter Zeller Fellow and has the Toastmasters International Communication and Leadership Award. Dave is a Life Member of Kin Canada and HRF Recipient Life Member of the Canadian Air Force, 428 Wing. A Life member of the Nato Veterans Organization of Canada, A Life member of CAV Canadian Army Veterans motorcycle unit, A Life Member of UN Nato Veterans Canada Motor cycle Unit, and a life member of the Hamilton Warplane Heritage Museum, a honorary member of the Canadian Rangers. He was awarded a Citizen of the year for 2003 in Cambridge. A Bernice Adams Memorial Award winner, a Cambridge Chamber of commerce Keith Taylor Memorial Award winner, and awarded Cambridge's Art and Cultural award. The Mayor of the city of Calgary made him an honorary Calgarian. His lastest award came from his Honourable Governor General David Johnston when he awarded the Meritorious Service Medal. (M.S.M).
Dave has been a proud member of both the Preston Kinsmen for over 30 years. And the Preston Legion branch 126