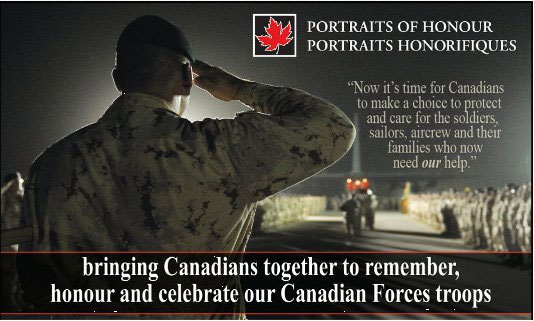 Objective
In March of 2014 the campaign in Afghanistan ended. At Portraits of Honour we believe that it is so important to have all Canadians celebrating together, and honour the great accomplishments made by our Canadian Forces in Afghanistan. We are working diligently to obtain a charitable status and shortly thereafter sponsorships?.
We are planning another tour to once again travel across Canada with a traveling museum with some uniforms, equipment and photos of the accomplishments made while helping the people of Afghanistan. The first trailer hosting the Portraits of Honour painting will be able to go coast to coast again honouring our fallen . A second trailer with the museum, that will help to interact with adults and children alike.
With the help of sponsorships we can make this happen.
Portraits of Honour and owner artist Dave Sopha will be able to help educate and further have Canadians remember the sacrifices that our brave men and women in the Canadian forces make each and every day.
This is also a way for us to show our troops that CANADIANS ARE PROUD of our military and of the work they do for us and other people throughout the world. This tour and Portrait also gives a chance for our troops to say good bye, and pay their respect to their fallen friends.
The painting also will help to bring closure to the families, by having the chance to look into the eyes of their loved ones, one more time, knowing that their legacy lives on.
In 2011 Portraits of Honour traveled across Canada for seven months visiting the home towns of our fallen. In hope that we could help the families and friends grieving, and let them know their loved ones did not die in vain.