About Kin Canada
Kin Canada is proud to be Canada's oldest all-Canadian service organization made up of outstanding community volunteers.
Kin members are enhancing quality of life in their communities by promoting service, fellowship, positive values and national pride. The Association boasts a proud 90-year history dedicated to fostering lifelong friendships while "Serving the Community's Greatest Need."
Kin has raised well over $1 billion since its inception in 1920 – a milestone celebrated with a cheque presentation from Kin Canada to the people of Canada, as accepted by Honourable Michael Chong, PC, MP while serving as Minister of Intergovernmental Affairs, President of the Queen's Privy Council for Canada and Minister of Sport.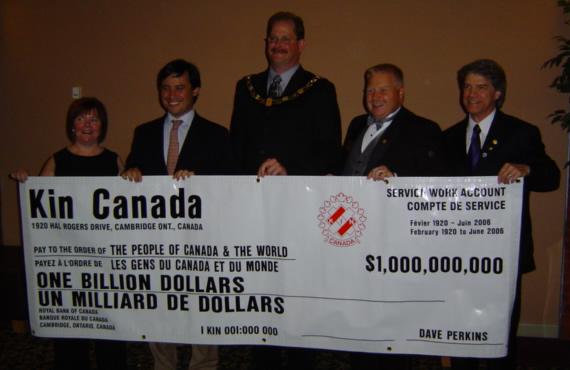 Every year, Kin Canada clubs continue to contribute millions of dollars to Canadian communities.
Portraits of Honour is not Kin's first military themed project
Kin Canada has a proud history of assisting during times of war and conflict. Without question, Kin's largest contribution occurred during WWII.
With extensive bombings occurring in Europe, Britain was faced with a grave crisis: they did not have enough milk to feed their children. Sir Winston Churchill made an emotional radio address asking for assistance.
Churchill's plea was heard by Kinsmen founder Hal Rogers who immediately activated Kin from across Canada with the creation of a campaign called "Milk For Britain" dedicated to raise funds for the purchase of powdered milk.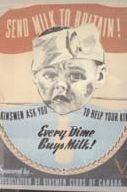 The goal for the first year was to raise enough money to purchase one million quarts. Within nine months, Kinsmen and Kinettes had supplied more than three million quarts. By the end of the Milk for Britain campaign, the Kin family had raised more than $2 million and sent 50 million quarts of milk to Britain.
For his efforts, Mr. Rogers was appointed an Officer of the Order of the British Empire and subsequently was appointed an Officer of the Order of Canada.
With our rich history of service and dedication to both our country and military, as a Kin Community, it is both fitting and appropriate that Kin Canada proudly support Portraits of Honour as our next National Project. May we support and honour our troops and their families, for they serve each of us through their sacrifice.