159 fallen ... the two who we must never forget
by Sean Libin, Portraits of Honour National Operations Manager
In the first two and a half months of the Portraits of Honour National Tour, it is clear that Canadians are understanding and appreciating the cost that Canada and our Canadian Forces have paid in their mission to bring democracy, stability and comfort to the people of Afghanistan.
Thanks to the mural that Dave Sopha has painted, it's almost impossible to stare at it and not realize the very personal cost that our soldiers, sailors and aircrew have paid. The message comes through the eyes of the 157 fallen heroes represented on the canvas.
But there are two more Canadians who have been killed in combat in Afghanistan who do not appear on the mural because they were not members of the Canadian Forces.
Today we honour reporter Michelle Lang and tomorrow we will feature diplomat Glyn Berry.
Born in Vancouver, BC, Michelle Lang chose a career in journalism and landed her first job in Prince George, BC. She soon earned a reputation as a tenacious reporter never afraid to back down and never afraid to dig for the facts behind a story.
Her career eventually took her east to Saskatchewan to Moose Jaw and then Regina where she worked for the Regina Leader-Post.
But it was in Calgary that I first met Michelle. She was working for the Calgary Herald and I had the opportunity first hand to experience her interviewing style. I can't recall the specific topic of the interview, as we spoke several times after that day, although I think it was a political story. But I clearly remember her smile and how her friendly demeanor put me at ease. This is not always the case with hard nosed political reporters.
Michelle had a way of making you want to tell her things that perhaps you didn't really want to. It was the sign of a good investigative reporter. I left the interview smiling realizing Michelle had succeeded in charming her way past my defences and from that day I fondly refered to Michelle as the "iron butterfly".
It was little surprise when Michelle earned a National Newspaper Award in 2008 for best beat reporting.
The world would soon learn just how tough, courageous and determined Michelle was as she convinced her superiors at the Calgary Herald to let her go to Kandahar to report on the stories of our troops and of the Afghan people. She felt compelled to tell the stories behind our mission and she didn't want to do it from the comfort of a desk in Canada. She wanted to be where the action was so she could see it and experience it first hand, so she could share it with Canadians through her news reports.
In 2009 she got approval, packed her bags and gave a farewell kiss to her supportive fiance Michael Louie.
Fast forward to a couple weeks ago when the Portraits of Honour mural was in Camrose, AB attending the Big Valley Jamboree.
As you would expect, hundreds of people stopped by the mural to honour our troops and most of them were younger people, camping, drinking and enjoying country music. But all were respectful. On Saturday, a young man, maybe 22 years old, stood on the stage and instead of walking across he focused on one area of the mural.
After several minutes I approached him and asked if he knew anyone on the wall and he pointed ahead to four faces who all lined up vertically.
He described how he had been in Afghanistan on a routine community security patrol on December 30, 2020 at approximately 04:00h local time. His unit had been tasked with gathering information on the pattern of life and maintaining security in the area. They were operating in the Dand District which Canadian soldiers helped rebuild after a suicide bombing in April. He was in the back of a LAV-3 which is a very large Light Armoured Vehicle and was joined by eight other soldiers in the crew compartment and one journalist -- Michelle Lang.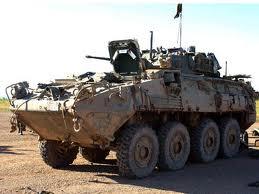 He went on to describe what happened next as their armoured vehicle drove over a homemade bomb (IED).
"I think a Taliban must have had a cell phone a block away and when he saw us drive over he set off the bomb," said the solider who now lives in Edmonton.
"Our LAV was picked up and tossed about 10 meters away and we landed upside down. Five people were killed and five of us were injured. I stayed conscious for all of it and didn't even realize right away that my leg had been shattered."
The four soldiers killed were (left to right) Sgt. George Miok, Pte. Garrett Chidley, Sgt. Kirk Taylor and Cpl. Zach McCormack. Michelle Lang was the fifth casualty of the tragic attack. She was 34 years old.
While Michelle's portrait doesn't appear on the Portraits of Honour mural, we often speak of her service and sacrifice to the thousands of people that we see each week as we tour this mobile tribute across Canada.
We will never forget her. We will never forget her determination to share the stories of the work and impact our Canadian Forces members are making in Afghanistan or of the personal stories of the Afghan people.
On a crisp fall October day in Regina, many of the Portraits of Honour team had the opportunity to gather at Saskatchewan's war memorial located on the grounds of the provincial legislature.
General Walter Natynczyk, Chief of Defence Staff unveiled an updated plaque on the Regina War Memorial that lists the names of Canadian Forces members who were killed in Afghanistan.
The Afghanistan Plaque now lists 14 fallen members which have ties to Saskatchewan including Michelle Lang.
The Afghanistan Plaque now bears the names of Michelle Lang, Captain Nichola Goddard, Lieutenant Andrew Nuttall, Lieutenant Justin Boyes, Sergeant Prescott (Scott) Shipway, Sergeant Darby Morin, Master Corporal Jeffrey Walsh, Master Corporal Josh Roberts, and Corporals Bryce Keller, David Braun, Shane Keating, Jordan Anderson, Cole Bartsch, James Hayward Arnal and Dustin Wasden.
Today we honour Michelle Lang and all the other civilians who have participated in Canada's mission in Afghanistan. May God bless each of you and bring comfort to each of your families.
Please take a moment to look back on some of our other stories as our crew enjoys some days off.