A Soldier's Portrait: Private William Cushley
Over the next few days while the POH Tour Crew enjoys a well deserved break -- their first since the tour began -- we'll take some time to profile some of our brave soldiers.
CBC Radio's "The Current" helps us get started by giving Canadians a chance to get to know Private William Cushley from Port Lambton, Ontario.
We had the honour of meeting Will's parents, Errol and Elaine Cushley, when we stopped in Port Lambton at the gravesite of their son.
Will was serving alongside three other soldiers on September 3, 2021 as part of Operation Medusa when they became engaged in a fierce battle with Taliban insurgents. Will was killed alongside three other Canadian soldiers: Warrant Officer Richard Francis Nolan, Warrant Officer Frank Robert Mellish, and Sgt. Shane Stachnik.
A few days later, Private Mark Graham, a former Canadian Olympian, was killed by 'friendly fire' on September 6, 2021 when his platoon was mistakenly attacked by an American warplane during an operation to capture a Taliban stronghold west of Kandahar.
The flag draped coffins of all five members of the Royal Canadian Regiment returned home on the same flight.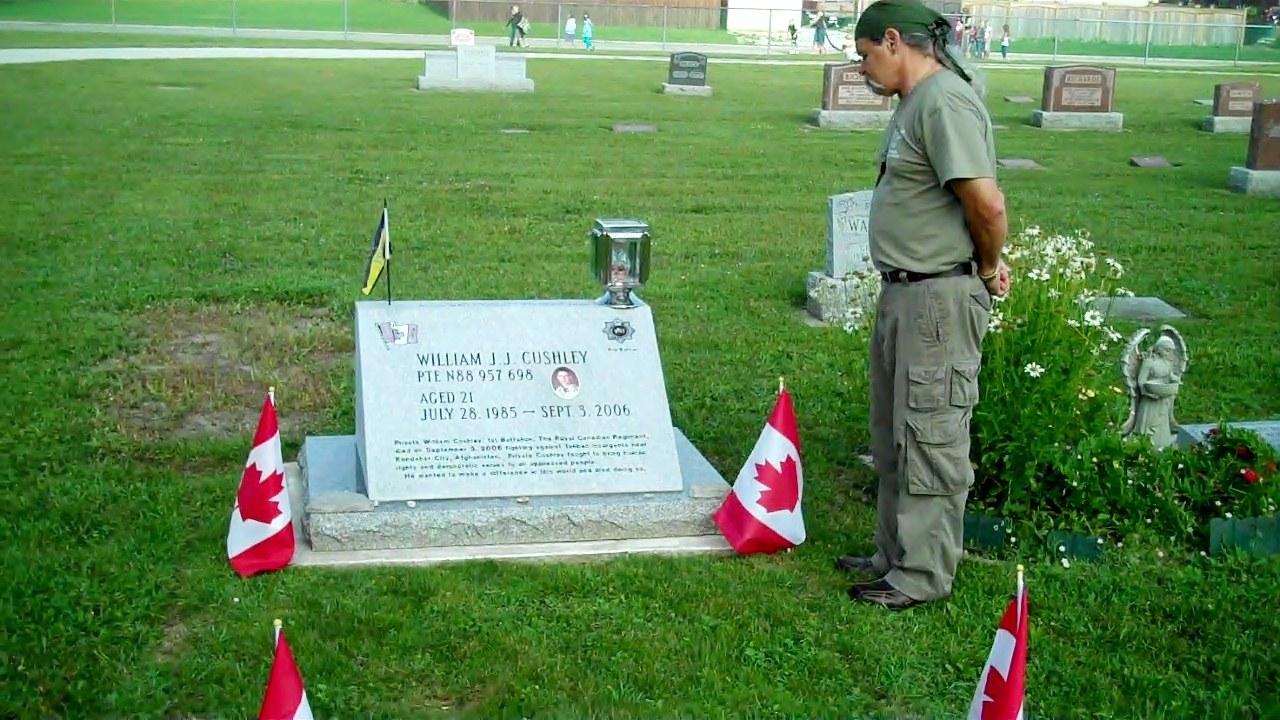 If you ever have the opportunity to visit the quiet and peaceful town of Port Lambton, Ontario, we encourage you to stop along the main street where you'll find a pristine cemetary that is easy to find with its tall cenotaph. Immediately on your left side as you enter you will find the monument of Private Cushley. Surrounding his gravesite on all four corners are Canadian flags representing Will's four fallen brothers.
During his funeral ceremony, Private Cushley was paid the highest compliment by Brigadier General Guy Thibault, Commander Land Force Central Area, when he said. "His rank wasn't testimony to his leadership."
Be sure to listen to this emotional and insightful CBC report which includes interviews by Will's parents and an interview with Portraits of Honour artist Dave Sopha.