TOUR TALK: Canadian Country Artist Julian Austin
Several of our Canadian country artists have had the honour of travelling to Kandahar to perform for our Canadian Forces troops, but few are any prouder or more dedicated that Julian Austin. Julian came onto the Canadian country scene in the late 90's and became a regular on CMT - Country Music Television.
We caught up to Julian at the Saskatoon airshow and found him backstage wearing his camoflaged ballcap that he received from the Tim Hortons located at the Kandahar Airfield. Julian has made several trips to Afghanistan to perform and each one has galvanized his patriotism and love for our country and our soldiers, sailors, aircrews and military families.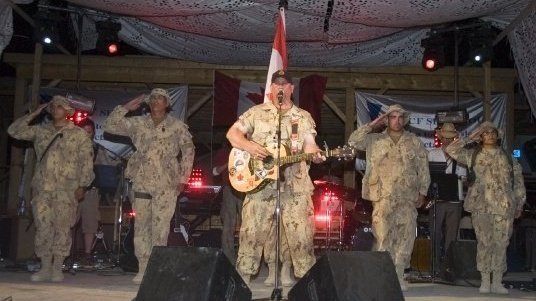 Julian took a moment to come over to the Portraits of Honour mural and found it hard to contain his tears as he began to reflect and reconnect with many of the soliders that are represented on the mural. He sends the following message to our courageous and devoted service men and women.