June 30: Port Lambton & Wallaceburg, ON: Personally Speaking …
Each day we try to share some of the moments of the day and paint a picture of what it's like out on the road with the Portraits of Honour National Tour. Some days the stories write themselves and others are tougher to pull together the myriad of observations and emotions that we see every day.
Most of the time we don't speak in first person narrative but today, this scribe feels compelled to make it personal.
When I started planning this tour a year ago this week, I had never met any of the 157 fallen heroes that are featured on the mural – back then it was only in the 140's. I had never met their families and frankly, I knew very few of their names.
I started to get to know a bit more about our fallen heroes as I started to learn about their hometowns and started plotting them on maps.
But since going on tour, I have gotten to know many of them personally. I have had the privilege of meeting their families, their commanding officers, their comrades and their friends.
I now know that Colonel Geoff Parker's son Charlie has the same distinct features as his Dad, that Private Tyler Todd was a "strong" firefighter who used to wash balls at a golf course when not playing pranks on his friends.
I felt a connection to Bombadier Karl Manning as his motorcade rolled by us at CFB Trenton just after he returned to Canadian soil.
I know exactly where I was when I met and hugged the mother of Sergeants Shawn Eades and Kirk Taylor.
The Portraits of Honour mural is an opportunity to bring Canadians together to remember, honour and celebrate our Canadian Forces but it's also an opportunity for Canadians to realize the real and personal sacrifices and the personal cost made by our military in seeking and enforcing peace throughout our world.
Many refer to the number … 157 … but it's more than a number. As people walk across the stage in front of the mural, they gaze into the eyes of our fallen soldiers, sailors and aircrew and they start to understand that their sacrifice is far reaching. It reaches beyond them to their families and beyond them to their communities and ultimately it starts to reach out to all Canadians.
Today, the police escorted convey made a special stop enroute to its ceremony in Wallaceburg, ON. It rolled through the small community of Port Lambton, located on the edge of the St. Claire River. If there is a prettier or more peaceful place I don't know where it is.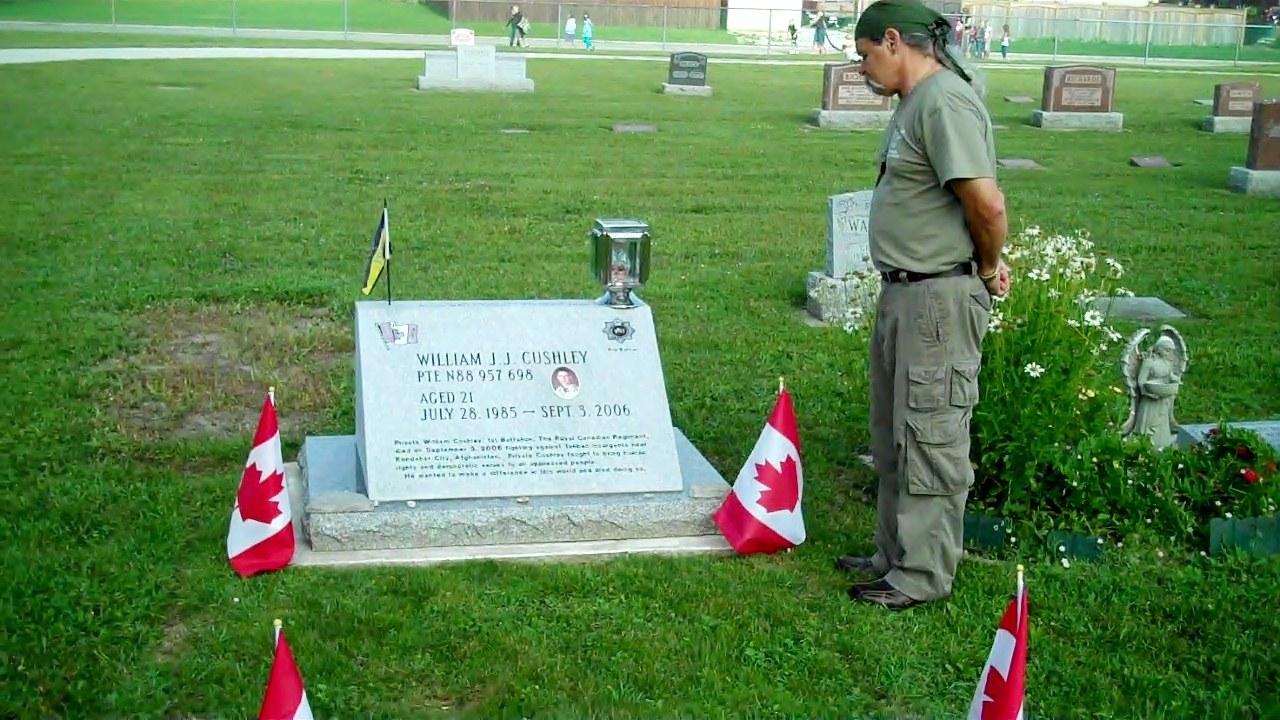 Located on a main street is a well kept cemetery and cenotaph. It's located just 100 yards down the street from the home of the Cushley family. You can't miss it with the three flags proudly displayed on their front lawn – the flag of Canada, the regimental flag of the Royal Canadian Regiment and a red Support Our Troops flag. This was once home to Private William Cushley.
Today, Private Cushley rests beneath a gorgeous monument in the nearby cemetery and his gravesite is surrounded by 4 Canadian flags representing Warrant Officer Frank Mellish, Warrant Officer Richard Nolan, Sergeant Shane Stachnik and Private Mark Graham. Three of these brave soldiers died alongside Will in the same firefight and then Private Graham died a few days later. They all returned to Canada together.
Following the brief stop, the tour continued on to Wallaceburg where the Wallaceburg Kinsmen prepared a special ceremony with several dignitaries, a full honour guard and the families of three fallen soldiers.
For the family of Master Corporal Kristal Giesebrecht, it was an emotional time but tears soon broke into smiles as they recounted storied of Kristal's love of sunflowers, and her prowess at poker. She beat her Commanding Officer out of $100 the night before she was killed. Her infectious smile is always easy to pick out on the mural.
A family member of Corporal Albert Storm was on hand to share a moment with his brother-in-law.
The Cushleys followed the escort in and shared stories of Will and how he liked to pull practical jokes on his buddies. His parents, like the parents of all our fallen, are strong and proud and appreciative that Canadians care.
So for me, today offered a chance to get to know some more of the men and women who travel down the road with us from community to community. They are starting to jump off the canvas, starting to come alive. I can hear some of their laughter through the stories shared with us. And hopefully, other Canadians will take a moment to get to know these brave men and women.
Meanwhile, the crew is tearing down to prepare for a trip down to Windsor. Over a dozen bikers have rolled into the parking lot to join our convoy and the O.P.P. has the cruisers warmed up.
Soon we'll get a chance to meet and get personal with some more of our heroes.
Signed,
Sean Libin